Danbury Fire Department
---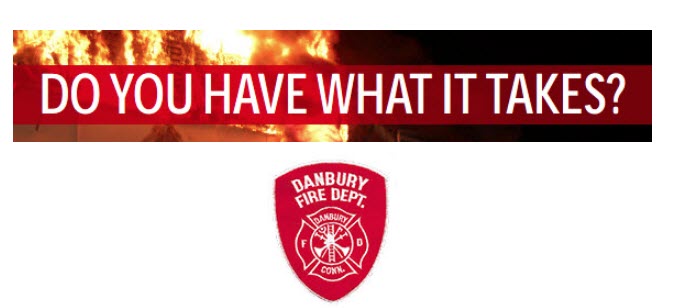 CITY OF DANBURY
ENTRY LEVEL FIRE FIGHTER
(Salary: $56,871/year )
Prior to submitting an application, you must carefully read the Application Information, Instructions, and Requirements packet located in the upper right hand corner, under the Apply Now button!
Danbury Fire Fighters are responsible for fire suppression functions in protecting life, property and the environment. Applicants must pass a battery of tests including written, oral, psychological and physical examinations, interviews and an extensive background investigation. The City of Danbury encourages qualified women and minorities to apply.
Requirements:
High school diploma or equivalent
Valid driver's license
Valid CPAT (Candidate Physical Agility Test), which is defined as a CPAT issued no earlier than February 2016.
Current Connecticut and/or National Registry EMT certification required. Additionally, candidates are responsible for maintaining a valid CT or National Registry EMT certification throughout the life of an eligibility list
Tobacco-free
At least 18 years of age by the application closing date
U.S. citizenship or have manifested the intention of becoming a U.S. citizen
20/50 vision in each eye, correctable to 20/20 in each eye and normal hearing without use of any hearing aid or other device
If you do not meet the above minimum requirements, your application will not be accepted by the Civil Service Commission nor will you receive a refund of your application fees.
Application Posting Dates: October 16, 2017 through November 6, 2017
Applications will not be available online prior to October 16, 2017,
nor will applications be available or accepted after November 6, 2017
How to Apply:
For a complete listing of requirements and the job description, qualified candidates must apply online by visiting www.Firefighterapp.com/danbury. As paper applications will not be accepted, internet access is available at the Human Resources/Civil Service Department, Danbury City Hall, 155 Deer Hill Avenue, Danbury, CT 06810. A $35 application fee is required and payable online. Applications must be submitted no later than 11:59 PM on November 6, 2017.
Join us at our Voluntary Information Session:
October 30, 2017 at 7:00 pm
Council Chambers, 3rd Floor, City Hall, 155 Deer Hill Avenue, Danbury, CT
Space is limited – Registration is required
To register, contact Human Resources by Tuesday October 23, 2017
at humanresources@danbury-ct.gov or 203-797-4598
EOE/M-F/DV