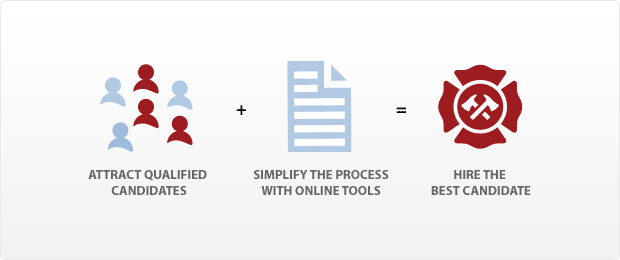 Tools that save time & money. "This innovative system has allowed me to accelerate the testing process administratively and I am happy to report that our last four hires were a result of PoliceApp.com applications."

- Mark Buckley

New Milford Police Department
Tools that save time & money. "This innovative system has allowed me to accelerate the testing process administratively and I am happy to report that our last four hires were a result of PoliceApp.com applications."

- Mark Buckley

New Milford Police Department
Simplifying the hiring process for fire fighters.
Designed by fire fighting professionals and technology experts, FirefighterApp.com is the smart solution to the process of recruiting and hiring quality candidates for fire fighting job openings. Learn More »
FirefighterApp.com is a division of PoliceApp.com and is a recruitment tool developed by industry professionals and technology experts that supports the recruiting process for firefighters.
Reduce advertising costs, reduce paperwork, and eliminate the need for data entry! FirefighterApp.com allows you to:
Communicate your current openings to a larger and targeted audience
Securely review applications online
Customize the requirements of your department's application
Learn More
Get Started for FREE
FirefighterApp.com helps you focus, organize, and rise to the challenge of becoming a firefighter.
Complete and save just one digital application
Easily browse and apply to job postings
Up-to-date notices of new openings delivered right to your inbox
Learn More
Get Started