Suffield Fire Department

---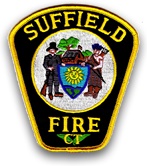 The Suffield Fire Department was chartered in 1897 and has been a combination department consisting of career firefighters staffing the main station 24 hours a day 7 days a week, and a force of 48 dedicated volunteers. We operate out of 4 stations utilizing 4- 1,000 gallon engines with 1,000 GPM pumps, an 1,800 gallon Tanker, a Mid-size Rescue, a 100 foot Tower Ladder and miscellaneous ancillary vehicles. This ensures a prompt response to any emergency calls received from our community. We also expect delivery of a 2,500 gallon Engine Tanker in mid 2013.
The dedicated men and women of the Suffield Fire Department train year round to continuously hone their skills, either in house or at the CT Fire Academy. Training includes but is not limited to firefighting, vehicle extrication, ice rescue, low angle rope rescue, wilderness search and rescue, and hazmat.
The department averages approximately 500 calls per year, protecting 44 square miles of our rural community of 15,735 (2010 US Census) residents. The community is bordered by the Connecticut river to the east, Massachusetts to the north and west, and Windsor Locks and East Granby to the south. We are on direct approach to Bradley International Airport and respond as part of a mutual aid agreement with Bradley Airport Fire. The Town of Suffield with a number of farms still producing Connecticut shade tobacco as well as other agricultural products is also home to a number of manufacturing facitlities, two correctional facilities and Suffield Academy, a preparatory school.