UConn Fire Department
---

University of Connecticut Fire Department
The UConn Fire Department responds to approximately 5400 emergency calls per year between the main campus in Storrs and UConn Health in Farmington. In addition to emergency responses, department members provide fire/EMS standbys for large public events, offer public education programs, provide a wide range of fire marshal and building official services to UConn campuses across the state, and perform many non-emergency activities all which contribute to a safer community.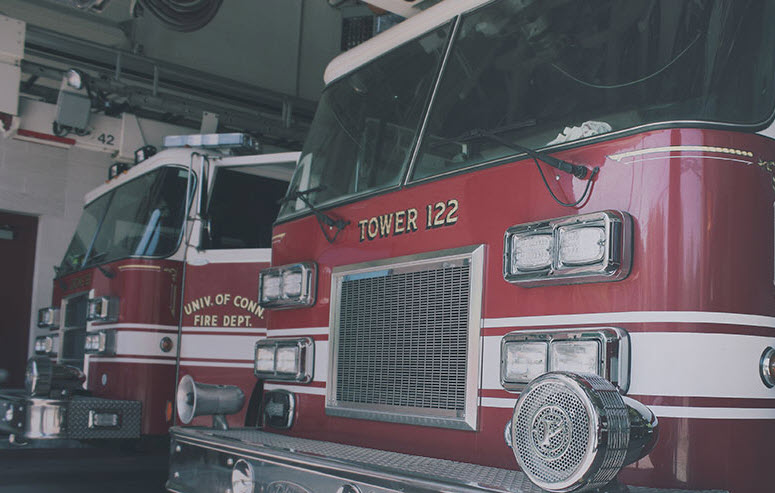 ABOUT US
Preserving the Past, Protecting the Future. Founded in 1889, just eight years after the first class was held at was then known as the Storrs Agricultural School, the University of Connecticut Fire Department (UCFD) has protected the University's infrastructure, academics, research and population as it has grown from a small rural college to a nearly 40,000 person "city" ranked continually within the top 20 public colleges and universities in the United States. UCFD's main goal is to provide fire protection and other critical public safety services to the UConn community, which includes students, staff, faculty, visitors and neighbors. The Department continually educates the University in fire, life safety and disaster preparedness, as well as serves as the primary unit responsible for enforcing public safety codes. This effort requires dedicated, professional uniformed personnel who have sworn an oath to maintain the Department's mission and values.
Professional Operations 24/7. UCFD consists of three divisions: Fire Operations, Fire Administration and the Fire Marshal and Building Inspector's Office (FMBIO)
The Fire Operations Division, is divided between two fire stations, one located in Storrs (headquarters) and the other in Farmington (Health Center). The Storrs station, also known as Station 22, is comprised of four platoons with a minimum of five and up to six personnel consisting of a Captain, Lieutenant and Firefighters. All personnel are state certified in fire suppression operations, technician-level hazardous materials operations and are licensed Emergency Medical Technicians providing ambulance transport services from the Storrs station. Station 22 has two engines, a tower ladder, four BLS ambulances, a pick up truck, Shift commander SUV, a Special Hazards vehicle, and other support vehicles.
The UCFD Health Center station, also known as station 122, is dedicated to the protection and preservation of the UConn Health Center Campus. The station has 11 personnel assigned, including an Administrative Captain, four Lieutenants, and six firefighters. There is always a minimum of three personnel on duty with one of them being a Paramedic. The UCFD HC station provides an ALS service for the campus. They have an engine, two ALS ambulances, a rescue, a utility body pick up truck and two administrative vehicles. They provide all fire and hazmat response to the campus along with providing any ALS transport needed on campus and provide mutual aid to the surrounding communities when requested. They have the ability to staff one ALS ambulance at any given time. In addition to the emergency response, they are responsible for regular fire sprinkler and extinguisher inspections of all UConn Farmington buildings
Fire Administration is responsible for planning, budget and oversight of the Department under the direction of the Fire Chief.
The FMBIO consist of the Fire Marshal's Office, the Building Inspector's Office and the Life Safety and Security Systems Unit. The FMBIO has a total of seventeen personnel:
Deputy Chief Supervisor
Captain/University Fire Marshal
Deputy Fire Marshal/Lieutenants
Fire Inspectors
Building Officials
Life Safety and Security Systems Specialists.
This office is responsible for code compliance and issuing of building permits for new construction and renovation projects. They also provide public fire safety education and planning assistance. The fire marshals are responsible for all fire investigations at Storrs and all University owned properties. This division provides the life safety systems program, coordination and maintenance of critical life safety and security systems in University owned buildings, with the exception of the Health Center.