Williston Fire Department

---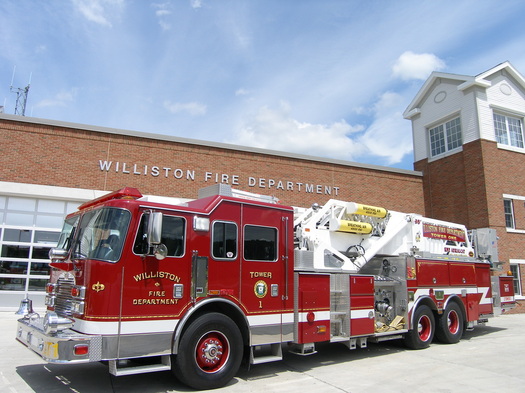 The men and women of the Williston Fire Department work tirelessly to ensure the Town of Williston and surrounding communities are protected in the best way possible.
Here is a glimpse of some of the members who protect you day in and day out.
Establishment
Prior to the establishment of its own fire department, Williston relied on other area fire departments such as Essex Junction, Richmond, Camp Johnson, and Burlington, for fire protection. After a serious fire at the Williston Academy School (where the Armory stands today), Howard Lunderville and Roland Osborne sought to establish a fire department based in town, as it was apparent it was no longer viable for Williston to rely on other departments.
Therefore, in early 1949, Howard and Roland went to the town Selectboard to offer their services as a fire department for the town. Unfortunately, the Selectboard turned them down. Yet, the men were determined and continued their efforts to form a fire department. In August of 1949, they returned to the Selectboard, and this time their offer was accepted. As a result, Howard and Roland co-founded the Williston Young Peoples' Association (later known as the Williston Volunteer Fire Department). They both personally signed for the purchase of a 1930 Maxim pumper truck, which they then gave to the newly formed fire department.
In addition to Howard and Roland, the following men are considered charter members of the Williston Volunteer Fire Department: Adrian Fortier, Preston Charland, Ernest Gaudette, Eugene Hanson, Edward Roberts and Oscar Staple. Howard Lunderville was Williston's first Fire Chief, a title he held during his 45 years of service in the department. Roland Osborne became the first Assistant Fire Chief.
During the first year of operation, membership was around 12 to 15 members, most of whom were local farmers, and the total number of calls was five. A few years later it was 20, and today the department answers over 1,800 calls for service with a steady increase each year. Farmers would remain the mainstay of the fire department for many years to come, as they were available for calls during the day when others might be working out of town. Some of the early members were Robert Alberts, Paul Dufresne, Herbert Goodrich, Ward Johnson, William Lane, Lester Lunderville, Roy Lunderville, Emerson Miles, Lynwood Osborne, Roland Osborne, Paul Roberts, Haultsey Shortsleeves, and Stuart Talcott. It didn't matter if you were the Chief or a firefighter - all members were strictly volunteers.
The charter members did much to make the Williston Volunteer Fire Department a success, not to mention all of those who have served over the years. According to Ken Bessette, the Bessette family has given 120+ years of combined service to the department over multiple generations. The Lunderville family has given over 80 years of combined service. There are other families that have had multi-generational membership as well, including the Boutin, Gaudette, Germaine, Gokey, Goodrich, Johnson, Lewis, Murray, Osborne, Shortsleeves, Tatro, Tymecki and Vezina families.
Over the years, many members have come and gone, and there have been a variety of people who have graced the halls. Recruiting and retaining call members continues to be the greatest challenge throughout the fire department's history. Today, there are 28 personnel on the roster compared to almost 60 just ten years ago.
In retrospect, we are grateful for every single person who has contributed their time, effort and skill to the Williston Fire Department. Whether you were here for a short stay, or for the long haul, please know that you have made an impact, that your service matters, and that we will never forget.