Naugatuck Certified Firefighter
---
Job Announcement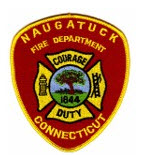 JOB POSTING


Borough of Naugatuck Certified Firefighter


The Borough of Naugatuck is accepting applications for the Naugatuck Fire Department for the position of Certified Firefighter. The starting base salary for a Certified Naugatuck Firefighter is $52,264.74 annually.
You must meet the following Eligibilty Requirements in order to apply. If you do not meet these requirements you are not eligible to apply to this position and you will not move forward in the process.
Eligibility Requirements:
Must have a High School Diploma or G.E.D.

Possess a valid driver's license (CDL Class B or Connecticut Q Endorsement preferred).

Must be a U.S. Citizen.

Successful completion of the Connecticut Fire Academy (CFA) Recruit Firefighter Training Program within 5 years of the date of hire.

o For the anticipated August 2015 hiring, graduates of CFA Recruit Classes 46 through 55.

Must be at least 21 years old at time of conditional job offer.

Possess a valid CPAT card (not older than one year) at the time of conditional job offer.

Must be in good physical condition and have no previous felony convictions.

Candidates must successfully complete and pass a thorough background investigation and post offer physical examination including drug & alcohol screening.

Candidates must adhere to the terms and conditions of the Drug & Alcohol Free Workplace Policy.
How to Apply:
All applications must be completed and submitted online at www.FirefighterApp/Naugatuck along with the following documents:
The following documents must be uploaded with your application. If you do not have electronic copies of all or some of the documents, the electronic copies are required by the Naugatuck Borough Human Resources Department and must be postmarked no later than June 29, 2015 or you will not be eligible to advance in the process.




High School Diploma or G.E.D.

Certificate of Completion from the Connecticut Fire Academy Recruit Program

CPAT Card no older than August 3, 2014

Resume
Do not submit any additional information or documents beyond the requirements listed above.
Applications for employment will be accepted until midnight on Monday, June 29, 2015. There will be a $19.00 application fee and a $16.00 processing fee. Paper applications will NOT be accepted.
Naugatuck Board of Fire Commissioners will review applications and resumes and notify qualified candidates of an interview\oral board date. This posting is for expected firefighter positions opening in August 2015 only. The Borough of Naugatuck will not maintain an eligibility list from this process after the August hiring.
For questions or further information, please contact the Naugatuck Human Resources Department at (203) 720-7003 or Fire Chief Kenneth Hanks at (203) 720-7081.
The Borough of Naugatuck is an Equal Opportunity Employer dedicated to a policy of non-discrimination on any basis prohibited by law.

Positions close at 11:59 PM (Eastern) on the deadline date specified or when the position capacity has been met.